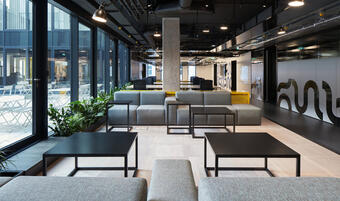 The trend in the office market is based, among other things, on the advent of so-called millenniums. "This young generation increasingly favors the individual approach, quality service and networking found in the centers. They grow all over the Czech Republic like mushrooms after rain, "said Lenka Hrudíková, CBRE coworking specialist. In the coworking rooms you can rent a table for one day or the entire office for tens of people for several months. The use of shared areas, printers and coffee is often included in the rent.

For example, in the HubHub center on Na Příkopě street, a one-day rental of a desk costs CZK 1,300. Monthly use of a fixed table costs 7200 crowns. The whole office costs more. For example, the Opero Center in Prague's Old Town offers office rentals starting at CZK 24,000 per month. Freelancers, creative industry people, startups and the like often rent the original space. But increasingly, this type of office is also rented by large companies.

"We have demand mainly from large, usually international companies. They find the combination of their own offices and shared space attractive. The variability associated with the program and service is appreciated by employees. Management is satisfied that it only pays for the used meters and hours, "said Karel Pelán, director of the Czech and Slovak branch of IWG, which operates the Spaces coworking office. Shared space was rented from large companies in Prague, for example, by the Flixbus bus carrier, at HubHub offices in Na Příkopě Street. The Albatros building will have a Weber-Stephen grill company for the entire floor.

Experts agree that there is room for further market growth in the capital still is. Some, however, tame exaggerated expectations. "Our experience and international research shows that Prague is not likely to become another coworking mushroom. This assumption is not driven by the lack of interest from operators or investors, but by the lower activity of startup companies in the Czech Republic and the lack of growth in digital and technology companies, "commented Radka Novak, head of the office team at Cushman & Wakefield. From a business point of view, the main difference from traditional offices is that the coworking operator acts as the tenant to the building owner. End users then rent the premises only from a coworking operator. Users' lease contracts are usually significantly shorter than in regular corporate office lease contracts.
Source: www.e15.cz