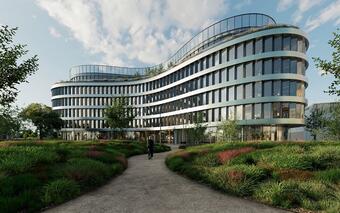 Contera, which has primarily thus far specialised in modern industrial constructions, is diversifying its portfolio and is entering the segment of administrative building developments. Organica will be developed in the centre of Ostrava, in the Karolina area.
"Exceptional location, high quality construction and excellent architecture are the biggest attractions for its future clients and customers. Organica will become a part of the new administrative and commercial centre of Ostrava where the Fórum Nová Karolina shopping centre, Nová Karolina Park administrative building and the Trojhalí buildings have already been developed. The location is situated within walking distance of the historical centre, but also of major traffic junctions such as the Ostrava central railway station and the bus terminal. I dare say you will not find a better place in Ostrava", says Dušan Kastl, a Contera partner and managing director.
Although no one can see it at a mere glance, it is a former brownfield, left here after years of industrial activity. The land that the city thoroughly redeveloped and decontaminated at high costs after the coke plant closure was acquired by Contera in a tender. It succeeded with the concept of a building loaded with modern technologies, reflecting the existing adjacent house-building and combining high-tech offices with retail.
Unique working premises
Organica is a building with six overground storeys, whereas the last one will have an open terrace with greenery and relaxation zone, and two basements with a parking lot and technical facilities. The entire building with a gross floor area of 26,300 m2 will offer 23,300 m2 of office and shopping premises for rent, whereas as much as 4,200 m2 of a compact office space can be provided on a single storey. There will be retail units in the eastern part from Náměstí Biskupa Bruna square, and facilities for employees, including a cycle room and a restaurant with a cafeteria on the other sides.
Although construction has not yet started, more than a half of the building has already been leased. The major user will be TietoEVRY, a leading Scandinavian provider of IT services and software operating globally, who will relocate its Czech headquarters here. It will occupy almost four floors, while the remaining 5,000 m2 of office space will be offered to other clients by Contera. The entire project should be finished no later than in the third quarter of 2023.
"The pandemic showed that the remote work or home office were welcomed by employees and they would like to continue using this system even after it is successfully defeated. However, the internal questionnaire survey has indicated that our people are missing close cooperation with their colleagues, meetings and discussions encouraging creativity. We are not able to replicate this key attribute in an online environment. The answer to this problem is the new Organica project", says Petr Lukasík, TietoEVRY Czech general manager.
The company will offer unique working premises to its employees, respecting the varied range of an IT company's activities and need for a modern working style. The premises will be divided into zones reflecting their purposes – zones for relaxation, meetings, team or individual work. TietoEVRY will even allow its employees to take a direct part in designing all interiors.
New future for Ostrava
The building was designed by the Schindler Seko Architects studio that has created a number of significant buildings.
Organica has been designed to meet high-quality standards in an environment-friendly manner. The interior air temperature and quality are controlled using sensors, responding to the concentration of people within a given space. Where no one is momentarily present, the air supply is lower. In the parking lot, visitors will find a free parking space thanks to the smart parking system. The system of auxiliary power supplies, thanks to which the building will be partly self-sufficient in terms of energy, is standard. The building will be equipped with charging stations for electric cars, and visitors will be able to charge their telephones or tablets from USB connections integrated into benches.
"Ostrava is gradually changing. It is abandoning heavy industry and is reshaping into a modern city. Contera has primarily been focusing on the development of industrial parks in Ostrava which are, however, an important stepping stone for the development of services with a higher added value. The city is also an important trade junction within Central Europe and part of an agglomeration with several-million people. We are happy to contribute to this development with our Organica", says Dušan Kastl.
The name Organica refers to the building design, which was inspired by natural shapes, also symbolising a new future for Ostrava. The building will take pride in the BREEAM Excellent certification that guarantees cost-efficient operation and sustainability. "In addition to the state-of-the-art technologies inside the building and sustainable energy management, we also focused on the exterior and adjacent greenery. There will be extensive landscaping performed, including benches to finish the adjacent square and to make the stay of employees and visitors pleasant," adds Martin Budina, Contera project development director.
"We have been supporting private investments in the city in the long term, paying great attention to the systematic preparation of vacant areas to offer them to investors. The conceptual development of the city, mainly its centre, would not be possible without the close cooperation of the public and private sectors. We have good experience with Contera based on the industrial zone project in Hrušov that is currently in progress, and we appreciate their drive. I believe that the Organica building will attract justified attention among those entities interested in doing business in Ostrava, who demand an attractive working environment and will properly architecturally complement the subject location", states Tomáš Macura, Mayor of Ostrava.