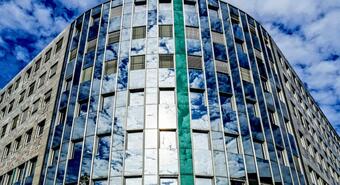 Both rental transactions are typical for consulting companies. Tenants chose the location and building with regard to accessibility for clients, but also in terms of attractiveness for current and future employees. " In the case of the TMF Group, the Kateřinská 40 building won among the twenty considered buildings thanks to the best conditions, the location in the center of Prague and the facilities for the work team, including a generous terrace with a beautiful view," explains Lena Popová, Associate Director of BNP Paribas Real Estate .
The current situation on the Prague office market is confirmed by the fact that the BNP Paribas Real Estate team had to deal with a number of obstacles. At the Kateřinská 40 building, which is known among experts as former headquarters of PriceWaterhouseCoopers, it was an excess of demand over supply.
Kateřinská 40
Even more complicated was the situation with the Colonnade transaction, where several teams from another location in Prague concentrated in the Gemini building. The big challenge in this case was to provide suitable premises for consolidation as well as expansion.
Thanks to the move of the whole company to a completely new location, it was necessary to embark on demanding negotiations with the owner of the building, but also with the previous tenant, from whom the original fit out was taken over, including depreciation of equipment investments, VAT issues, etc. tenants and owners of real estate have to complete the lack of free offices in selected locations. Gemini belongs to DEKA Immobilien's portfolio.
" Both leases show confidence in the Czech economy, the related expected expansionary ambitions of the companies, which should last for this year," adds Lenka Šindelářová, MRICS, Head of Market Research and Consultancy at BNP Paribas Real Estate APM ČR .
Source / Photo: Community sro / Title Illustrative Photo (www.pexels.com)