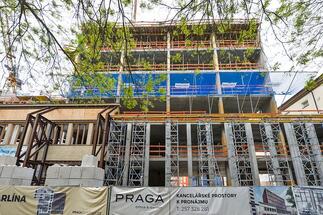 The PRAGA Office & Garden office building, designed by the ADNS studio and run by M2 Real Estate, is a part of the PRAGA multifunctional complex and will offer 2,000 m2 of modern office space.
Construction of monolithic construction of office building Praga
With a fully glazed northern façade, the offices will have generous daylight and views of the quiet courtyard garden. The whole complex is located just a few steps from Karlínské Square, at the foot of Vítkov. The location excels in the surroundings full of greenery and pleasant business, but also great access to the city center.
Offices will be available from Q2 2020.
Source / photo: www.retrend.cz / Svoboda & Williams sro