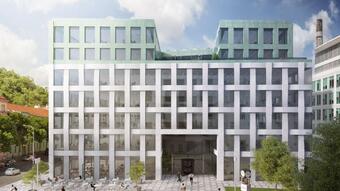 "The Praga Studios, which we built next to our headquarters in Prague's Karlín, are our second project in this district. I believe Edwards Lifesciences and Scott & Weber employees will appreciate the cutting-edge working environment we have prepared for them. It includes technological innovations Connected by Skanska, pleasant relaxation areas on the terraces, and a range of environmental features including green walls and own bee breeding on the roof of the building. As part of the preparation and implementation of our project, we have made everything possible for Praga Studios to meet the demanding requirements of international LEED environmental certification and WELL indoor environment, " says Alexandra Tomášková, Director of Skanska Property Czech Republic .
Companies based in Praga Studios
The building's largest tenant is Edwards Lifesciences, which has leased 5,300 square meters, ie nearly half of the building. Scott & Weber, a provider of fully equipped offices and coworking facilities, also operates in Praga Studios.
On the ground floor of Praga Studios on an area of ​​600 m2, there will be available modern event spaces of Spojka Events in an industrial style with a capacity of more than 200 people. Thanks to its variable layout, it will be an ideal place for conferences, workshops, corporate trainings or parties. Catering will be provided by Etnosvět sro, which opens its new restaurant called Spojka Karlin.
"After three years of successful operation of the vegetarian and vegan restaurant Etnosvět in Prague's Vinohrady, we are opening a new restaurant in Karlín. We associate all those who want to eat well at one table. Without prejudice and regardless of whether it is a vegan, a vegetarian, or a lover of meat, " says the company executive, Andrei Zaitsev , adding: " We are thinking about what we eat in the Alliance. We think about our health, so we want food on the plate to make sense. Come and see for yourself that this is different. "
Art and Business
Praga Studios motto is a combination of business and art. The new building following the industrial tradition of Prague's Karlín has in its center an atrium suitable for artistic performances (concerts, theater performances and exhibitions) intended for both tenants and residents of this district. At the ceremonial opening of the building on 29 August 2019, an orange piano will sound out in the atrium.
LEED and WELL certification
Praga Studios' modern office space was built to meet LEED Platinum's highest environmental certification and the demanding quality and health of building interiors called WELL.
Innovation Connected by Skanska
For tenants of Praga Studios, Skanska has developed the Connected by Skanska operating system, which allows access to the building via a mobile phone, a smart parking system including navigation to the assigned location, and also brings together all the services in the building and its surroundings.
Source / photo: www.retrend.cz / Skanska as