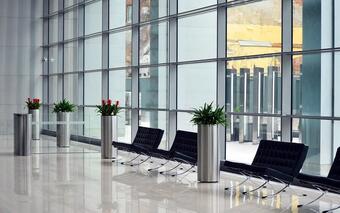 Jos Tromp, Head of Research for Continental Europe at CBRE, says: "2020 was clearly turbulent in real estate markets. The coronavirus pandemic has abruptly ended the ongoing economic cycle and its effects and speed of recovery will not be the same (as in other crises) in a uniform way in all sectors or geographical areas. However, new opportunities will reappear. Vaccination is a promising promise to kick-start the recovery early next year. "
Flexibility will be key for the office segment
The demand for office space in Prague was affected this year by the introduction of a number of measures to combat coronavirus, including two lockdowns. As a result, in the first three quarters of 2020, demand fell by 30% compared to the same period in 2019.
Nevertheless, CBRE expects a slight market recovery next year: demand will be driven primarily by interest in high-quality real estate in attractive locations with extensive civic amenities in the area. The vacancy rate in Prague is currently 7.2% and is expected to continue to grow slightly in 2021. At the same time, the trend under leases will continue, which may cause tenants who would normally only choose Class B office properties to take advantage of advantageous offers under leases in premium office complexes.
Flexibility of lease agreements will become a key requirement for office tenants. At the same time, interest in the use of smart technologies, such as navigation systems or applications for tenants, will grow. It is also expected that companies will pay more attention to the implementation of optimal strategies for organizing workplaces and distributing work teams to more places. The importance of coworking and shared offices will grow, which some owners of office real estate with long-term free capacities will be able to use precisely to create such spaces in their buildings.
Currently, there is also an increased demand for parking spaces, because employees do not want to use public transport to the same extent as before due to the pandemic.
As for new construction, as of Q3 2020, 130,300 m2 of office space was under construction with planned completion in 2021 and 2022. Another 80,700 m2 was in various stages of preparation with planned completion in 2023-2024. However, it can be assumed that developers will wait for significant pre-leases before construction begins.
Investment market: the residential segment is gaining in importance
CBRE expects that in 2020 the total volume of investments in the Czech Republic will reach approximately 2.5 billion euros, which means a decrease of 20% compared to 2019. At the European level, CBRE expects a drop of 25%. He predicts a return to pre-covid values ​​(assuming that vaccination is carried out according to current plans) by the second half of 2022.
Investor demand for real estate remains strong, especially for logistics, residential and office assets in premium locations. However, due to the limited construction of new office buildings, investors face a lack of interesting products on the market. In the coming years, the volume of investment in residential real estate can be expected to increase.
Source: Central Group - A new residential district is being prepared on the site of the existing Westpoint industrial complex in Prague 6
Retail parks proved to be an attractive product even during the pandemic, so their share in the total volume of investments will continue to grow in 2021. The Czech Republic has a very strong base of Czech institutional funds, which make up 35-40% of the market. CBRE expects Czech funds to grow in the coming years.
Logistics driven by online retail
Online retail (which has accelerated further due to the pandemic) will continue to grow and will continue to increase demand for logistics facilities in the Czech Republic and throughout Europe next year. In addition, higher interest from e-shop operators will be complemented by increased demand caused by the transformation and expansion of some supply chains. Add to this the fact that some logistics operators are moving from Western Europe to the Czech Republic, and it can be expected that demand will remain stable in 2021.
Panattoni - BTS Kion Group, Stříbro, Czech Republic
On the other hand, we face problems with slow permitting processes, which can prolong the conclusion of some transactions. The current vacancy rate is at the level of 4.4%, where it should remain next year. The market situation shows that the tenant has not suffered a major slowdown and there is no risk of leaving the leased premises. On the contrary: many companies are experiencing increased interest in their products or services and require expansion of space. The situation in Prague is extreme - the vacancy rate fluctuated between 1 and 2% during the year. As of the 3rd quarter of 2020, 372,600 m2 of space was under construction in the Czech Republic, of which 154,100 m2 was planned for completion in 2021.
CBRE also records a decline in speculative construction (35% as of Q3 2020) and expects the trend of lower speculative construction (depending on the location) to continue in 2021.
Retail trade awaits negotiations on rental terms and an increase in the number of dispensing points
Shopping in brick-and-mortar stores and shopping centers will continue to be affected in the first half of next year by a number of restrictions that have a negative effect on their attendance and performance.
CBRE assumes that the market will not recover until the second half of 2021. Shopping centers dependent on customer attendance from office buildings and tourists will face a challenging period at least in the first half of next year. The market situation will be on the side of tenants, who will have a stronger position in negotiating lease terms.
CBRE expects great pressure on discounts, rents, contributions and flexibility in the length of leases until the pandemic subsides sufficiently and the market recovers. At the same time, it predicts a greater demand for short-term leases, so-called pop-up concepts, which will allow tenants to bridge this period under more favorable business conditions. The sales network will also be optimized by some chains in order to increase efficiency and reduce costs. The owners of shopping centers, in cooperation with tenants, expect a gradual interconnection of online and off-line shopping, in the form of the introduction of dispensing points or the improvement of customer service in stores.

CPI Property Group - Shopping center City Park Jihlava
Another chapter of retail is retail parks, which showed great resilience during the pandemic. The functionality of these concepts is confirmed by the fact that they maintained their performance and were the customers' preferred purchase option due to the lower concentration of people indoors. It can therefore be expected that these concepts will be a sought-after place for expansion for some brands and, from the point of view of investors, an attractive combination of long-term leases and more predictable revenues.
Clare Sheils, CBRE's General Manager for the Czech Republic, concludes: "The Czech market underwent a dramatic change in 2020. We have observed how expectations of commercial real estate prices change between investors and owners in different sectors, not only at different speeds, but also in opposite directions. The biggest differences were in the retail and logistics sectors. As the market begins to recover, investors across all sectors will begin to carefully assess their portfolios and reassess the needs of owned properties in terms of efficiency, productivity and commitment of employees and their users. "
About CBRE
CBRE Group, a Fortune 500 and S&P 500-based company based in Los Angeles, is the world's leading real estate services and investment company (2019 in terms of revenue). Approximately 100,000 employees provide services to property owners, investors and tenants through more than 530 branches worldwide (not including subsidiaries).
The company provides a wide range of integrated services from real estate management and maintenance, business transactions, project management, investment management through real estate valuation, real estate leasing and sales, strategic consulting to mortgage and development services.
With almost 350 employees, CBRE in the Czech Republic manages almost 75 commercial buildings with a total area of ​​almost 1.2 million.m2.
Source:// Retrend