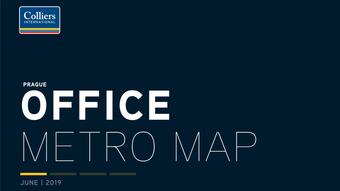 According t Réti edition of Maps of office space at the subway station (Metro Map Prague Office) global consulting company Colliers International offices in Prague's share of walking distance reached 77%.
From the fourth quarter of 2017 to the first quarter of 2019, the area of ​​modern offices has grown from 3.34 million square meters to 3.51 million square meters. Nearly 90% of the new construction was completed with the 10-minute attendance criterion mentioned. This percentage will then increase with the gradual improvement of pedestrian access to new office buildings.
The expanding Prague metro is a key element of the extensive integrated public transport network. Colliers has recorded some crucial information about the offices, focusing on volume, rent and occupancy, depending on walking distance from metro stations . Thus, the map shows that:
there are currently 337,000 square meters under construction, of which 320,000 - ie 95% - are located ten minutes away from the metro station; over the last six quarters, the vacant office space has dropped from 250,000 square meters to 153,000 square meters, and offices are 10 minutes away from the metro stop from 185,000 square meters to 119,000 square meters; 3 metro stations are within walking distance of more than 200,000 square meters of office space, namely Pankrác, Náměstí Republiky and Křižíkova stops; the largest area of ​​office construction is concentrated around the Radlická metro station, about 42,000 square meters.
"The city districts of Karlín, Radlice and Nové Butovice are the centers with the largest volume of offices within a 10-minute walk from the metro B stations. This will strengthen B's position as 'office' due to the availability of land suitable for construction close to its route, " said Ondřej Vlk, Head of Colliers International's Czech Republic Research Department.
Source / photo: www.retrend.cz / BEST Mediální společnost, sro