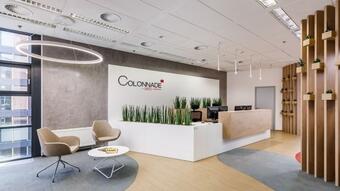 The aim was to design an attractive interior in both color and material, which would meet the demands of the number of jobs. "We wanted the new offices to combine the company's identity with the convenience of our employees. The reality even exceeded our expectations," says Dominik Štros, General Manager of Colonnade.
In this case, the client left a great deal of freedom and trust, so the creativity of the CAPEXUS architect could fully manifest itself. The entire interior is decorated in bold colors using unusual shapes. The classic office space was transformed into an inspiring environment not only for work.
The purpose of the project was to incorporate sufficient storage space and acoustic elements. These elements, together with plenty of greenery openspace, have become more and more attractive.
In view of the now much more important focus on comfort, employees in the relaxation area will find, in addition to the café corner, equipment that serves to stretch. Among other things, it is a ladder, stepper, yoga mat, gymbally, matting or darts.
Relax Zone with Exercise and Playful Elements | Photo: Petr Andrlík
In the reception area, the architect used wooden slats with greenery to divide the space. Thanks to the wood pattern used, the entrance area has a timeless and light-weight impression.
Colonnade's modern reception with seating and dividing wooden slats with greenery. | Photo: Petr Andrlík
"The whole design is accompanied by a loose line of arches, which is copied in carpets, acoustic and joinery elements. This element interconnects the whole space in a certain way," says architect Tereza Kondělková.
The design of the different departments of the company was imaginatively reflected in the unusual carpet design. The foundation is a gray carpet that defines corridors and common spaces. The departments then define the colored carpets that run out of the gray base in waves.
They then pass to the reception area, where they are complemented by a circle-shaped carpet, dominated by the seating of two iconic Actiu Badminton chairs. The carpet circle is then repeated in the openspace section, which is suitable for shorter meetings.
The coloring of the carpets translates into the color of the vinyl in the kitchen and the color accent of the kitchen unit itself.
Openspace with color matching storage and acoustic elements | Photo: Petr Andrlík
The playrooms of the meeting rooms are themed decorations depicting Canadian musicians - Leonard Cohen, Bryan Adams, Avril Lavigne and Simple Plan. "We didn't want another dozen meeting place in Prague, Bratislava, Brno, Ostrava, Warsaw, and then we thought of using some of the Canadian pop-rock stars. We have an incredible response," Dominik Stros comments on the decoration that resonates with the company's origins.
Bryan Adams Meeting Room | Photo: Petr Andrlík
Would you like these offices? Consult architects and workplace consultants from CAPEXUS and order a non-binding consultation.
(source: aktualne.cz)