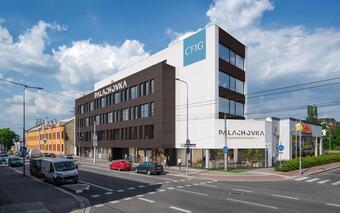 The administrative building under construction has five floors. The whole building will offer approximately 2,500 m2 of office and retail space and 240 m2 of green terraces with panoramic views of Pardubice. The location at the intersection of Na Spravedlnosti and Jana Palacha streets inspired the name of the project "Palachovka".
"The building has been under construction for a long time and we managed to get it under interesting conditions. I'm a Pardubice patriot, so that's why we didn't hesitate too much. We see potential in real estate, we want to grow in it and entering development is thus another natural stage in the development of our company, "says Martin Chovanec, founder of the CFIG group.
At present, a rough construction is completed - a reinforced concrete skeleton, including connections. The project is being updated in terms of new construction, safety and energy requirements, and work has begun on the infrastructure, interiors and cladding of the building. By the end of 2022, the premises should be ready for those interested to move in.
"We would like the Palachovka building to become an attractive dominant feature of the public space of the locality. We want to occupy the ground floor retail space with attractive brands, at the moment we have a confirmed interest of a renowned international café company, "adds Chovanec.
The next four floors will offer space for offices. The whole project emphasizes high standards and modernity in all aspects. The roof's solar power plant will take care of the building's economy, and the demands of the green building will be filled by large terraces planted with greenery, as well as the surrounding green areas.

CFIG Real Estate has been operating on the real estate market since 2018. Since then, the portfolio of owned real estate has grown to higher tens and is worth almost a quarter of a billion crowns. The company deals with the purchase of problematic real estate in auctions, foreclosures, insolvencies or direct buyouts. Subsequently, it removes legal defects in these properties, cleans them of debts and reconstructs them. The property is then subleased or sold to end customers. With the Palachovka project, CFIG Real Estate is entering the field of development.
Source:// Retrend