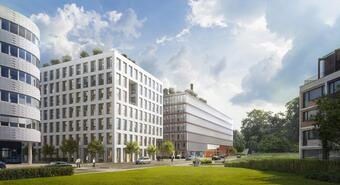 Czech specialists for creating and managing web PPC campaigns will move to new premises of 579 m2, which include a picturesque terrace, in mid-August. Formerly KOFEIN resided in the administrative area of ​​Agora in Flora.
" We wanted a change, something fresh, new, modern, where we would feel comfortable. An important criterion was also good transport accessibility and sufficiently large premises, because the plan for the next years is to expand our team. We were looking for places in Prague 2, 3, 7 and 8 and finally the Palmovka Open Park complex won. We believe that we have chosen well and that our employees will find much more comfort here, "says the founder of KOFEIN agency Robert Štípek .
" This is the second tenant we brought to the Palmovka Open Park, the first was the Warhorse development studio. People from the agency KOFEIN fell into the eye of the location, lively, yet quiet surroundings and the fact that the place is very easily accessible by all modes of transport. The offered space was also captivated by the smaller cozy terrace, which completed the successful search for a new headquarters, "adds Lenka Vašíčková, Consultant of A&T Office Services to CBRE .
Source / photo: www.retrend.cz / Crest Communications, as