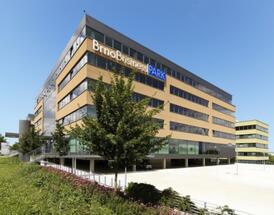 Overall, Moravia, and more specifically the South Moravian Region, the Zlín Region, the Olomouc Region and the Moravian-Silesian Region, has 1,566,300 sq. m. of industrial real estate, which accounts for 23% of the total offer in the Czech Republic, similar to other regions. In Moravia there is also 733,000 sq. m. of retail space, which represents 31% of the total market. The office real estate market is primarily situated in larger cities – Brno and Ostrava in Moravia. Currently, in Brno there are 547, 000 sq. m. of offices, while there are 215,000 sq. m. of office space in Ostrava. Compared to Prague, where the total office space is 3,280,000 sq. m., the share in the given sector is slightly lower.
As the flagship of Moravia, Brno dictates the entire real estate market and drives demand in the Moravian regions. Brno has 380,000 inhabitants and is the second largest city in the Czech Republic. It is the economic, cultural and educational centre of South Moravia. At the same time, it is conveniently situated at the intersection of important highways linking Brno with European metropolises such as Prague (210 km), Vienna (150 km) and Bratislava (140 km).
The secondary position of the Brno office market within the Czech Republic has a large impact on overall demand. The top interest in office space in Brno is manifested by local companies or companies for whom the location in the capital is not a deciding factor. On the contrary, their position outside this market has its strengths. These are primarily the noticeably lower rental costs and a cheaper workforce. Brno also has a large number of university students, which are suitable for the demanded sectors.
Source: http://news.cbre.cz