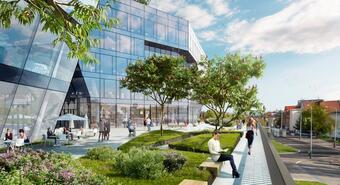 "Bořislavka Centrum will have a very varied structure of tenants. It is a great opportunity for those interested in renting a business unit, especially thanks to its location on the main thoroughfare, Evropská Street with direct access to the vestibule of the Bořislavka metro station. Within 15 minutes from the center, there are 100,000 potential customers, attracting not only a rich selection of gastronomy. Bořislavka is another important project of our extensive portfolio, which CBRE has in its exclusive representation, " says Milan Mašša, Head of A&T Retail Services.
KKCG Real Estate - Bořislavka, visualization
The project includes more than 60 retail units, which make up more than 9,000 m 2 of retail space for rent. There are also restaurants and cafes that seamlessly pass to the terrace and park areas or the Children's Community Center . The project also includes more than 24,000 m 2 of lettable office space. The center will have a unique Leed Gold Precertification.
"We are also thinking of improving the surroundings of the new multifunctional center Bořislavka. A small square - piazzetta - will be built at the entrance to the metro, with a unique view of the Prague skyline and over 4,000 m 2 of public space. Piazzetta, centered on Federico Díaz's work of art, has the potential to become a natural meeting place for local residents, " says Otto Koval, Sales Director of KKCG Real Estate .
Source / photo: www.retrend.cz / CBRE sro