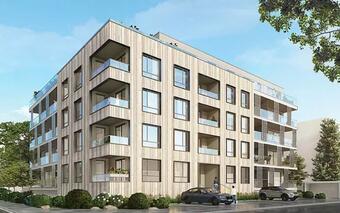 The real estate segment in the Czech Republic and Slovakia is currently enjoying extraordinary investor interest. The imaginary curve began to grow in selected real estate segments, especially at a time of economic downturn during a pandemic. The trend was reflected, among other things, in the rapid conclusion of real estate projects on the Crowdberry investment platform, which expanded its range of opportunities for investors this year through the new real estate fund CB Property Investors. Already the first phase of underwriting investments in the fund indicates the potential for the implementation of interesting, sustainable projects in the Czech Republic and Slovakia.
The goal of the Czech-Slovak real estate fund CB Property Investors is to support not only Czech and Slovak development plans with added value, but also existing buildings with untapped potential. Through careful selection of projects, it wants to work to improve the ecological footprint of Czech and Slovak real estate, reduce their adverse effects on the environment (eg by reducing greenhouse gas emissions), and thus create space for the implementation of sustainable technologies.
In some cases, it could be an intervention in the material nature of real estate - the modernization of buildings and their interior systems. Optimizing the use and improving the economic performance of selected development projects should bring investors an appreciation of 10+% p.a. The fund focuses primarily on logistics real estate, retail parks and residential projects. Over the course of three years, it wants to make investments of EUR 30 million and manage a portfolio with a total value exceeding EUR 75 million.

Crowdberry - KLM Nitra
"The fund's strategy with an emphasis on sustainability and re-development has attracted not only investors. It has also attracted attention from developers, banks and other partners who are constantly contacting us with offers of cooperation. All this testifies not only to the unwavering appetite of potential investors for opportunities in the real estate industry, but also to their confidence in the Crowdberry team and our experience. We also recorded the success of real estate projects that raised funds through our investment platform, such as the senior center Dúbravská oáza, the logistics hall for e-commerce in Trnava or a residential project of a community nature in Bratislava. In the case of CB Property Investors, the success of our strategy is reflected in the interest shown so far by investors who have decided to participate with an investment of at least one million crowns or the euro equivalent, "comments Peter Bečár, Crowdberry partner.
"Underwriting was preceded by an in-depth analysis of up to hundreds of projects, which resulted in those that met our strategic criteria and the requirement for above-standard returns. These are real estate projects with the potential for value growth. For example, the conversion of an older office building into housing units or the construction of smaller commercial industrial projects. CB Property Investors is a fund that addresses Czech and Slovak investors. It focuses on investment opportunities at home and thus responds to the growing interest of Czechs in real estate as a safe investment target, "says Omar Sattar, Executive Director of the Real Estate Division at Crowdberry, who heads CB Property Investors.