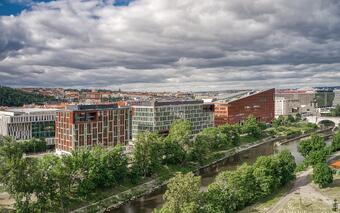 Andreas Quint, CEO of CA Immo: "The development and completion of the Mississippi House and Missouri Park office buildings as sustainable, innovative and healthy properties perfectly underlines our overarching ESG strategy, which we are pursuing throughout the Group under the motto "Tomorrow Proof". Our aim here is both to make an active contribution to achieving global climate goals and to offer our tenants secure and sustainable rental space in central locations."
"With Mississippi House and Missouri Park, the entire River City Prague office campus is taking its final shape. Our long-term vision of turning a forgotten brownfield land into a flourishing environment that is fully integrated to the life of the city is completed. What is truly unique about this project is blending modern office environment with the nature on the riverbank, the promenade, the community park and the number of relaxation options. With both new buildings we create a benchmark for attractive and healthy office environment that targets highly innovative, forward-looking and environmentally responsible companies. I hope our clients will appreciate CA Immo's ambition of creating and managing places where people love to work", stated Václav Jonáš, Head of CA Immo in Prague.
Mississippi House and Missouri Park complement the River City Prague office campus, whose development has now been completed and comprises five class A structures, with the already existing Amazon Court, Nile House and Danube House and a total leasable area of 84,000 sqm. The campus and the adjacent area of Karlínské square provides numerous restaurants and cafés as well as a good connection to the bicycle network. The complex represents a perfect example of CA Immo's strategy of developing high quality, forward-looking office properties that provide ideal working environments for the long-term while meeting stringent sustainability criteria.
First tenants in the new buildings include the international consulting company ADASTRA, the law firm Allen & Overy and the international company BATIST Medical Holding. All new tenants will be moving in during the third quarter of 2021.
Being located in Prague's Karlín district, Mississippi House and Missouri Park offer a total of 20,750 sqm of lettable area, counting up to 13,380 sqm at Mississippi House and 7,370 sqm at Missouri Park. CA Immo's total investment volume is at around € 65 m. The new buildings, designed by Danish architectural studio Schmidt Hammer Lassen, are benefiting from the unique location within walking distance from the city center on the Vltava embankment with direct access to the river, surrounded by green spaces with a lot of opportunities to relax.
Both buildings are innovative and architecturally as well as technically exceptional, being designed and constructed as twins, each with eight floors and two underground parking levels with a total of 230 parking spaces. The high energy–efficiency of the buildings, undercutting the Czech standards of energy consumption by more than 50%, is ensured inter alia by using geothermal energy as primary source of heating and cooling, triple glazing on façade, intelligent LED lighting with dynamic control of color temperature and light intensity and smart climate control with CO2 monitoring.
For more information about the new buildings visit:
www.mississippihouse.cz
www.missouripark.cz
www.rivercityprague.cz
www.facebook.com/RiverCityPrague/