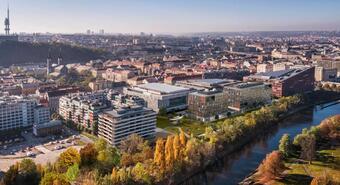 Together, the two buildings will offer 20,750 square meters of lettable space. Mississippi House 13,380 square meters and Missouri Park 7,370 square meters. The buildings will be equipped with the latest technologies. The author of the architectural design was the Danish studio Schmidt Hammer Lassen. Construction has already begun, the expected completion date is in the first half of 2021. CA Immo's total investment will reach EUR 66 million.
CA Immo - River City Prague, visualization
As a leading investor, developer and manager of commercial properties in Central Europe, CA Immo builds on the highest environmental standards and sustainability principles. As a result, both buildings aim to earn LEED Platinum certification .
Attractive and healthy work environment
"Our goal is to create buildings that offer future tenants an attractive and healthy working environment. Given today's demanding labor market situation, we want to give them a real competitive advantage in their efforts to attract new talents. The River City Prague project is already known for its exceptional architectural qualities. Mississippi House and Missouri Park maintain these qualities and push the standards of Danube House, Nile House and Amazon Court further in many aspects, including in the use of state-of-the-art technologies and landscaping features. Personally, I am looking forward to a technologically advanced glass façade and unique views from the terrace over the flowing Vltava River and surrounding greenery, " says Václav Jonáš, Director of CA Immo in the Czech Republic .
CA Immo - River City Prague, visualization
CA Immo decided to implement the project in the form of construction management in cooperation with an external company specialized in building management PM Group. The first phase of earthworks, piloting and infrastructure is carried out by OHL ŽS.
The River City Prague administrative complex has so far consisted of three office buildings. Danube House (21,000 m 2 ), Amazon Court (22,000 m 2 ) and Nile House (more than 19,000 m 2 ). Danube House and Nile House are LEED certified at the highest Platinum level. Amazon Court building is DGNB Platinum certified.
Both Mississippi House and Missouri Park will have eight above-ground and two underground floors for 230 parking spaces. Bicycle storage and cycling facilities, including showers, are also planned. Part of the architectural concept are green terraces, flexible offices with plenty of natural light and a representative lobby. High energy efficiency of buildings will be ensured by an intelligent lighting system with dynamic control of color temperature and light intensity, as well as CO 2 monitoring , advanced waste recycling, rainwater collection and the use of heat pumps.
The buildings are located in an attractive location surrounded by greenery practically directly on the Vltava River with a view of Prague Castle. Karlín is a dynamically developing Prague district with very good infrastructure and accessibility, including connection to a bike path. In the vicinity there is a wide selection of restaurants, cafes and cultural activities.
Source / photo: www.retrend.cz / Crest Communications, as