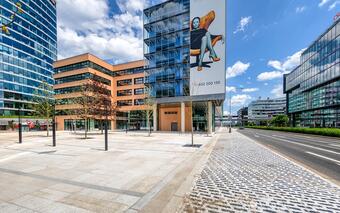 As part of the reconstruction, the external appearance and internal layout of the building were modernized. The building has a new façade in earthy tones, as one of the key materials, glass was chosen, which gives the whole building airiness and at the same time ensures ideal lighting conditions inside. All technologies ensuring a comfortable working environment with an emphasis on efficiency and economic operation have also been modernized. The building offers a total of 15,600 m2 of leasable area on eight floors, underground garages and tenants also have a large roof terrace with greenery. The author of the reconstruction is the architectural studio A8000, the investor is the PASSERINVEST.
During the reconstruction, the adjacent public space was also improved. In front of the main entrance of the building, a new Ellen G. White square was created, planted with mature trees, and equipped with benches and safe bicycle stands. Another interesting feature is a water jet fountain with colored lighting. The open atrium/courtyard of the building offers a completely new look, offering additional relaxation space for tenants and the general public. In its vicinity, it is possible to use the reconstructed footbridge over Vyskočilova Street towards Náměstí Brumlovka. The total amount of investment in the reconstruction and cultivation of public space reached CZK 470 million.
PASSERINVEST - Building B, atrium
The CIJ Awards competition has been running for 20 years and recognizes the most important achievements and personalities in the field of development in 26 categories. In the selection of finalists, their contribution to the entire industry plays a role, but also fairness at work and behavior or respect for the environment. The winners of the individual categories are automatically nominated for the Best of the Best CIJ HOF Awards 2021 competition, where they will compete for victory with other winners from ten countries in the CEE region.
Source:// Retrend