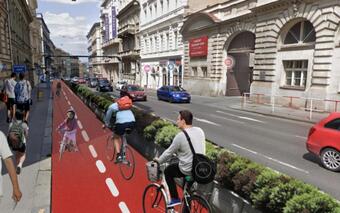 The path will follow the route of the North-South highway, connecting Holešovice and Pankrác. The mayors of numerous districts express their high approval of the project, specifically the mayors of Prague 1,2, and 4.
The cycle path will also run through the western parts of the highway. It will connect a number of districts: Holešovice, New Town, Vinohrady and Nusle. Prague 2 also stated that they would build a connecting cycle path in Žitná.
City officials were inspired to make this decision from cities in Europe that are building cycle paths in bulk, namely Lisbon and Paris. The officials realized that cyclists have been mixed up daily with traffic on the highway.
The cycle path will be suitable for people on bikes and scooters. Conditions will also improve for pedestrians, as they will not have to walk right along the busy highway.
In the morning and evening rush hours, the journey along the bike path will be faster than by car, and this will perhaps alleviate traffic jams.
Moreover, the municipality will invest to innovate and enlarge sheltering facilities at train stations and speed up the process of laying the bike tracks, as well as new bicycle parking lots, where people can keep their bikes and continue by public transport.
"We believe this project will not be the last, and that Prague has completed the stage of building cycle paths on the periphery, and now it will also start to focus on the centre where most people live. Cycling benefits our physical and mental health, improves the traffic situation, and saves money," said a spokeswoman for TKS Praha.
Prague currently boasts some 515 cycling routes, covering more than 125 km.
So, fingers crossed: Prague needs more cyclists, as it has one of the highest numbers of cars among Europe's capital cities.
Source:// Prague Morning