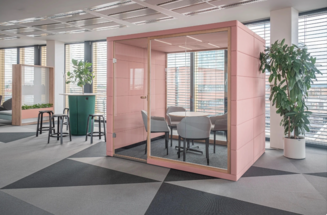 It also affected the Prague headquarters in Pankrác, which looked like a ghost town throughout the pandemic. Now the company is reopening the office in a rebuilt form.
About 600 employees who chose to work in the office will return to them permanently. In addition, it also serves three hundred others who have preferred a hybrid model of work from anywhere, but still have access to offices.
"Globally, about forty percent of Avastans have chosen this regime. This means that even if the offices are open, these people will spend a maximum of two days a week in them. But some will not go there at all - they will be at some cottage in the mountains or on the beach, "explains the new way of working, the head of the anti-virus giant Ondřej Vlček.
The so-called "new standard" also reflects the company's rebuilt Prague offices, which are spread over 12,800 square meters and six floors of a building called Enterprise. "Workplaces of the new type must be as flexible as possible and must adapt to the needs of the team and the individual," says Vlček.
The company thus divided the premises into several sections according to the type of activity that the employees are going to do. "We have small quiet places for work that requires peace and concentration, more spacious zones for team brainstorming and cooperation, but also larger studios for cooperation across teams. There is also plenty of space for rest and informal moments with colleagues, "says Vlček.
The building thus added 24 meeting rooms, of which fourteen were formal and ten were informal. Also new is eight soundproof micro-offices for one person. The company has also created ten quiet zones where employees can reserve tables.
Relaxation is offered by rooms for yoga and massages, the children's corner has been expanded with a place for infants and toddlers, and new spaces for children's educational activities have also been created. The renovation lasted seven months and involved architects from Capexus.
"The layout of the interior and the layout of the individual zones is reminiscent of city planning. It was important to create spaces for an agile way of working, which we achieved with flexible furniture, adjustable tables on wheels or variable spaces for hybrid meetings, which take place partly physically and partly via video conferencing, "explains architect Martin Židek.
At the same time, the company transformed the entire seventh floor, where there used to be a rest area and a famous dining room with free food for employees. A new multifunctional space has been created here, where employees can prepare food for their team and meet. There is also a kitchenette on each floor with free hot and cold drinks, sandwiches and fruit.

Source: // Forbes