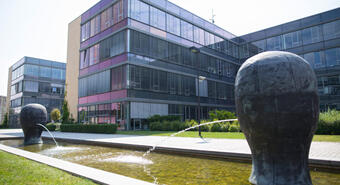 As a result, 6 new tenants have entered the Avenir Park for a total area of ​​4,900 m2 over the past six months. At the same time, large renowned companies, such as Porsche Czech Republic, Porsche Engineers, ČSOB, Business Lease, Simac Technik ČR and Coloplast, have extended or even extended their tenancy in the complex. This year, Mint Investments will continue to revitalize the complex;other investment costs will reach almost CZK 20 million. The total investment in the modification of Avenir Park will be almost CZK 30 million .
Avenir Park
"The vacancy of offices in Prague is now at an all-time low of around 5%. Therefore, it might seem that the administrative complexes do not even have to fight for their tenants. However, the opposite is true: renowned Czech and international companies are always considering the location of their headquarters. Also, because of the current shortage of labor in the marketplace, the quality of an office building, its equipment, and the working environment, along with the surrounding infrastructure, is becoming an important tool in the acquisition of new employees and in maintaining existing ones. We keep track of current trends in office development and respond to changing aesthetic and functional demands at Avenir Park, " says Lukáš Schirl, Mint Investments partner. Thanks to the revitalization, Avenir Park has been able to attract tenants such as the Czech headquarters of McDonald's and Dermacol, ING Bank, dormakaba Česko, Biomedica ČS and Cognex Service over the past 6 months.
Avenir Park is a complex of three office buildings in an established office location by metro in Nové Butovice in Prague 5, right next to Galerie Butovice shopping center. Its total lettable area is almost 25,300 square meters in three buildings . The complex has 550 parking spaces in the underground garages, thanks to the nearby bike path, more and more used bicycles with showers and changing rooms, restaurants and a large landscaped garden for work and relaxation. In it, people can sit with their laptop on the benches, enjoy the grass and discuss things with their colleagues in a less formal atmosphere or play a ping pong together.
Avenir Park
The Mint Investments Group has invested most recently in the garden and other common areas (entrance receptions). "This year we will continue: revitalization awaits the canteen and common areas on each floor. For the spring and summer season, we plan to expand the range of catering with culinary specialties from food trucks, " says Milan Korbelář, Senior Asset Manager of Mint Group ."We realize that a quality working environment is crucial for the health and mental well-being of employees. Therefore, in Avenir Park's offices, we are thinking that tenants can have them exactly the way they want them: they can combine open space with small, independent offices, thanks to several independent inputs and receptions, they can organize their offices both horizontally and vertically. In the complex we give companies the opportunity to grow: up to 3,500 m2 can be rented on one floor. Employees can set up their jobs to suit their needs: for example, with individual temperature control at the workplace, using internal blinds or natural ventilation with openable windows, " concludes Milan Korbelář .
IMMORENT ČR, an investor, developer and leasing company, was behind the construction of the Avenir Park administrative complex, which completed the project in 2004. For III. stage, Avenir Park won the prestigious "Best of Realty" award 2008 in the New Administrative Center category. Subsequently, he received BREEAM certification for environmentally friendly buildings.
Source / photo: www.retrend.cz / Crest Communications, as