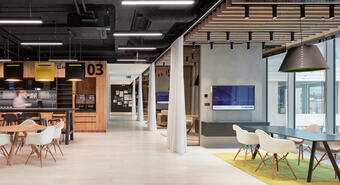 At the same time, for pragmatic reasons, it is also of interest to the owner, the executive or the finance director: agile offices can reduce costs in a smart solution. This is a significant value at a time of rising leases, operating and wage demands. This was confirmed by the latest study by the Prague branch of the international consulting company BNP Paribas Real Estate.
The term 'flexible' is a very broad term. Flexibility can be seen as the adaptability of a physical office space that responds to changing user requirements. At the same time, however, it expresses the flexibility of the rental conditions, ie the possibility to use the premises for such a period and to the extent that the client actually needs. As a result, agile offices are able to reduce costs.
" For standard offices, the total operating cost per employee is € 318, for flexible offices it is € 265. Both data are valid for the center of Prague. Average Prague costs are lower, 222 EUR for conventional workspaces and 185 EUR per month for agile, up to 20 percent savings in flexible agile offices thanks to more efficient layout, "compares both formats Lenka Šindelářová, Head of Research & Consulting at BNP Prague office Paribas Real Estate .
There is also an increasing number of companies (and not only new ones) that are not even looking for classic offices. And headed straight for coworking.
The fact that this platform has the potential for further development is illustrated by statistics. In 2018, coworking operators had a 10% share in new leases in Prague. In Warsaw it was 15% and in Brussels even a fifth of all deals. "Even this year's development does not indicate a retreat. On the contrary, "adds Lenka Šindelářová .
Offices (Photo: Peter Fabo)
According to international studies, up to 40% of all workers in coworking centers are employees of large companies and corporations. Coworking is not just for freelancers and start-ups. In addition to addressing short-term expansion needs and reducing costs, Corpoworking also offers a creative environment for employees, workshops, events and client meetings.
Developers, owners or property managers already have enough options to offer at least partially flexible offices . The easiest way is to rent part of the space to a specialized operator. At the same time, they can be inspired by some of the "Ten Agile Offices".
Agile offices should be:
1. Modular: can be rearranged according to user needs
2. Multi-tasking: they must contain different workspaces (microenvironment) to solve different tasks
3. Divisible: here it is sufficient to partition or otherwise separate the spaces
4. Connected: the building should "read" (anonymously) its traffic and user movement - analyze and transform the data into measures that meet real demand and needs
5. Fluid: it must allow people to move in space completely and meet each other
6. Flexible in time: workspaces can be booked on request, employees can also use the so-called "third premises" and work outside the office, for example in a coworking center, cafe, etc.
7. Open: Workspaces are open not only to employees and their clients but they form hubs where employees, freelancers and start-ups, corporate clients and people attending events meet.
8. Accessible: clear added value (and for many conditions) in the form of easy access to public transport; Sensitivity to parking of bicycles, scooters or electric cars is also increasing
9. Circular: the word we will meet more and more often; not only in connection with the economy, but also the functioning of the building or location - even the property has its ecosystem
10. Reversible: offices need not be a guarantee of success, let's face it; it is therefore good to think of an easy possibility to transform or add a building to housing, retail, workshops…
Source / photo: www.retrend.cz / Community sro