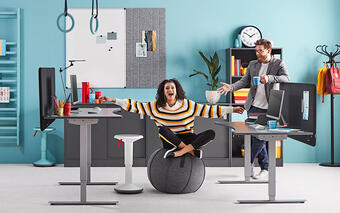 Modern options of active office
The human body is designed to move , and it is the right active office to support. All its equipment keeps the body active: today's height-adjustable tables as well as adjustable conference tables, balance and saddle chairs, anti-fatigue pads ... and the offer is constantly expanding!
Height adjustable tables
Positioning tables allow for frequent and fast changing of sitting and standing work. When you are sitting, use a quality office chair that can be adapted to your body proportions, with sufficient support for your arms and shoulders. It is advisable to rotate a classic chair regularly with some type of active chair - a balance or saddle stool or a balancing ball , for which the joint strengthening of the torso and support of the ergonomic position is so natural that you do not even notice that you are strengthening. What more could you want?
While standing, the burning of calories increases and other muscles are strengthened rather than sitting. With regard to both comfort and health, it is best to stand on an anti-fatigue pad that reduces foot and back load. Lovers of challenges are recommended to change the soft pad from time to time to a balance pad and train balance and strengthen the lower body.
Active meetings
The heigh-adjustable conference table brings active style to the meeting rooms. Research shows that we are more creative, attentive and more inclined to work effectively with colleagues. As a result, such meetings are shorter and more to the point . In the event of a prolongation of the meeting and the standing would be no longer comfortable, you can always start the adjustable table and sit down.
Attractive employer
Rotation of positions strengthens muscles, promotes blood circulation and reduces the risk of various pains. In the long term, an actively equipped office contributes to the health of employees.
And because everything is connected to everything, practical and convenient office equipment is projected into the overall work satisfaction of the employees. The pleasant background creates a sense of belonging to the company and pride in what they have done and where they are going. All this enhances your company's image as an attractive employer: you won't have to find new talents, they will find you yourself.
Source: www.ajprodukty.cz