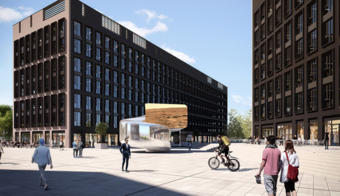 During the second quarter, there were two major transactions in excess of EUR 100 million. These include the purchase of Main Point Pankrác by DTZ Investors for Hana Financial Investors (managed by MINT) for EUR 130 million and the sale of the Rustonka R1-R3, which was purchased by Hana Financial Group and Hana Alternative Asset Management (managed by WhiteStar) for 136 million euros. Both of these transactions confirm the continuing influx of South Korean investments. The share of South Korean investments in the Czech market is currently 27%. It is the second largest group of investors.
Mint Investments - Main Point Pankrac
Czech investors dominated the market, accounting for 34% of all transactions. They were followed by South Korean investors. German investors ended up third with a 6% stake. Canadian and Norwegian investors took the fourth place with a 4% share. There is a growing demand for local investment funds, which raise capital from both qualified investors and small-scale investors. These funds have a significant amount of capital that they currently allocate. However, due to the lack of suitable investment for them, some investors are looking for opportunities beyond the borders. We expect this trend to intensify.
"Given the continuing demand from South Korean and other major investors seeking to invest their capital in Czech real estate, we can expect a further smaller yield compression, especially in the office sector," says Ondřej Vlk, head of Colliers International's research department.
The office property market reached a total area of ​​3.51 million square meters , thanks to an increase of 58,800 square meters in the second quarter of 2019. Five completed properties were added to the new completed premises: the new ČSOB headquarters (30,000 square meters) in Prague 5, Praga Studios ( 10,600 sqm) in Prague 8, Mayhouse (7,300 sqm) in Prague 4, Ara Palace (2,600 sqm) and Na Porici 5 (1,300 sqm) in Prague 1.
CPI PROPERTY GROUP - MAYHOUSE
In the second quarter, gross leases of office space reached 100,600 square meters, cumulatively reaching 211,000 square meters in the first half of the year, down 6% from the same period in 2018. Cumulative net leases amounted to 136,100 square meters, year-on-year 11% decline.
In the industrial property market, 153,000 square meters of industrial space was completed in the second quarter of 2019. The total area of ​​industrial properties in the Czech Republic exceeded 8 million square meters. This contributed to an increase in vacancy rate of 75 basis points to the current 4.4%, respectively. 356,000 square meters of immediately available space at the end of H1 2019 . Gross leases increased in the second quarter of 380,500 square meters. This represents a year-on-year growth of 21% and a quarter-on-quarter increase of 2%.
Source / photo: www.retrend.cz / BEST Mediální společnost, sro / Cover photo - White Star Real Estate - Rustonka