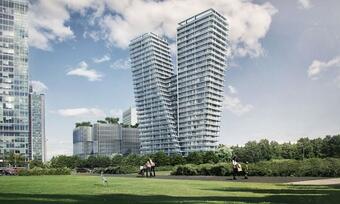 The Prague panorama was enriched by the architectural dominant of the V-shaped structure, which is being built by the developer PSJ Invest. The V Tower, Prague high-rise building does not resemble any project that has been implemented in Central Europe. With its 104 meters, it has become the tallest residential building in the Czech Republic, and with its first-class technology and precision with which it was built, it can be compared to the prestigious skyscrapers of New York, Dubai, and London. The building was designed by architect Radan Hubička, who has combined his experience with experts from all over the world, thus far outperforming European standards. This is evidenced by the aspiration for the LEED Platinum environmental certificate, which emphasizes both respect for the environment and the comfort of living and the efficiency of operations.
V Tower, Prague
The V-tower, Prague's specific V-shaped construction makes each floor unique, creating a wealth of spaces and vistas - with every new meter opening up a whole new perspective. The top-floor multi-story penthouses feature a private terrace, rooftop swimming pool and spectacular views of the Golden City. Each one is offered in white walls so future owners will not be hampered by the choice of surfaces, kitchens and other equipment. In addition, the skyscraper was designed and built with maximum emphasis on noise control: each housing unit has graphite cooling ceilings and noiseless underfloor heating, unique inter-apartment walls perfectly absorb interior sound facade was based on a study of acoustic surroundings and in the vicinity of the building was laid special asphalt.
Comfort to the smallest detail is guaranteed by the hotel's concierge services, which are renowned for residential projects in New York or London. In addition, the residents of the V Tower, Prague have access to a private club floor, which includes a wellness area with sauna and whirlpool, swimming pool, fitness center, as well as a children's corner and conference facilities. Right in the house, there is a private cinema with a top audio system and a golf trainer, which is also used by professional golfers.

Only a fraction of real estate in the Czech Republic is unique enough to represent the Czech Republic on a global scale. With the exclusive partnership of Svoboda & Williams with Christie's International Real Estate penthouses will fully fulfill their potential and will not escape the attention of all over the world.
Source / photo: www.retrend.cz / Svoboda & Williams sro