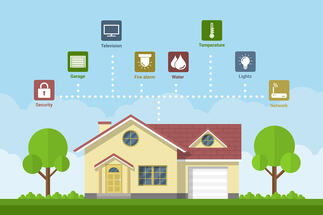 Nest Hello Doorbell
Nest's smart doorbell has a built-in HD video camera, so you can check your phone to see who's there. There's a built-in microphone and speaker, so you can talk to whoever's knocking — even if you're miles away from home.
Amazon Echo
Amazon Echo is a hands-free speaker you control with your voice. All you have to do is ask and the appliance will play music, make calls, send and receive texts or break down the day's weather.
Smarter iKettle 2.0 Wifi Kettle
You can boil water or any liquid like tea and coffee liquid with this kettle by controlling it from anywhere in the room.The kettle comes with an App that shows you the exact water level contained in the kettle. The app will also notify you when the water boils to your satisfactory temperature. The wake-up mode and the home mode give you the ability to assign a time period for your kettle to be ready for use.
Wireless Garage Door Sensor
This device operates your garage doorwirelessly from your smartphone, when linked with your switch or ceiling motor. You can control and monitor it from anywhere using Wi-Fi or your cellular network.
Eco dish cleaner
The Eco cleaner uses ultrasonic waves to clean dishes by ionizing the food particles. This new technology coverts food waste on plates into reusable compost for plants. It is an eco-friendly gadget that provides healthy soil for your plants from your food waste.
Did you find something interesting?
(source: aginginplace.org, housebeautiful.com)