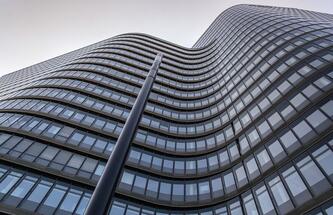 Ecological energy management
Modern buildings not only of the office type must first of all save energy, minimize heat loss and take care of thermal insulation and window solutions . In order to avoid unnecessary energy losses through windows, there are already smart sensors that automatically switch off heating or cooling when windows are opened. Sunlit parts of the buildings are then fitted with automatically operated blinds that adapt to the condition of the outdoor environment .
Recycling of waste gray waste water is another hot topic of building ecological management. It is the use of water from showers and sinks for flushing or cleaning. Drinking water is not unnecessarily used where it does not have to.
Robotization
Robotization of some activities in office and administrative buildings is another current trend. For example, the concept of Online Reception offers robotization of receptionists' work and helps to keep the office or the entire building running at a minimum while minimizing human factors . This already fully functional solution enables companies to cope with the lack of physical staff at the reception with the help of state-of-the-art technology, while accelerating and simplifying the entire operation.
"The online reception can easily cope with the daily activities of the reception and its normal operation. It welcomes visitors, provides information, issues guest cards and forgotten cards to employees, handles messengers and orders a taxi. Each user has access to a visitor system where they can simply announce each visit in advance and the Online Reception will handle it even faster than human attendance. Not every situation can be precisely predicted, so the less common activities will be reliably handled by the operator of the monitoring center via a videophone, " says Jaroslav Čehovský of SSI Group .
Safety
Along with the fact that smart solutions use a number of devices connected to the Internet, there is a risk of attacking such systems by unwanted attackers. "Ensuring the security of buildings in the face of the increasing dependence on modern technologies, we must already pay the same attention as caring for the physical safety of employees and visitors to buildings. If you do not take care of it for a long time and systematically, then your building certainly has an achilles heel, " says Jaroslav Čehovský of SSI Group .
The number of smart "things" on the network is growing rapidly - according to Gartner consulting data, from 8.4 billion in 2017 to 20 billion in 2020. "As IoT continues to grow, each company is less resilient to virtual risks. Digital contact between suppliers, partners and customers brings many new cyber threats, " explains Jan Všetička from Canon CZ .
Greenery and natural light
Ensuring the right climate and healthy working conditions in office buildings is also an important issue. A functional solution is the creation of green roofs and facades, as the lively green surface absorbs much less sunlight than conventional roof and facade materials. In addition, evaporation of water from green areas takes away heat and cools the surroundings. These solutions can reduce the building temperature by more than 8 ° C.
A healthy working environment also includes a sufficient supply of natural sunlight, which can sometimes be a problem where there are no windows. But even for places totally or almost without windows, there is an elegant solution - a light guide. "The principle of light guides is basically very simple. The light pipes collect daylight on the roof, facade, terrace or on the sidewalk or green roof and then lead it into the interior through a special highly reflective tube. The walls of the tube consist of powerful mirrors with maximum reflectivity. The tube leads to the ceiling or wall of a room where we need to bring natural light, " says Jakub Brandalík of Lightway .
Source / photo: www.retrend.cz / ASPEN.PR sro / Title illustrative photo (www.pexels)