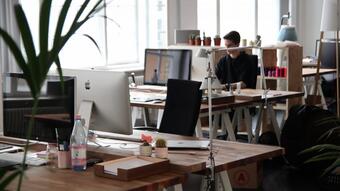 With myriad design options to choose from, keeping your office up to date takes some effort and planning. You need to have tomorrow's technology today to ensure your office space stays with the times and doesn't become dated in its practices.
Twelve members of Forbes Technology Council share whether their office is future-proof and the one piece of technology that every office space should have. Here is what they recommend:
1. Reliable Conference Lines
This is so basic, but it's amazing how many offices lack a reliable service for conference and video calls. With the great increase in remote workers for companies of all sizes, this truly is the best way to future-proof any office. It's the critical piece of technology that connects both remote workers and team members at all locations. - Daniel Brackett, Extreme Reach
2. Diverse Communication Tools
The biggest challenge is communicating ideas, either from one discipline to another or across time and space. Making it quick to convey ideas -- whether with physical whiteboards, video conferencing or digitally sharing screens -- the specific technology will depend on the need at the time. A single tool will rarely fill all the needs, so finding tools that work together is crucial. - Luke Wallace, Bottle Rocket
3. Cloud-Based Platforms
Every office should use cloud-based platforms to protect data and make it accessible to those authorized to have it. This can help people work from anywhere, on any type of device that they have now or that will be developed in the future. - Chalmers Brown, Due
4. Balance Between Smart Tech And Eco-Friendly Architecture
We future-proof our office by creating a fine balance between smart technologies, cutting-edge materials and doing the responsible thing for our environment. For example, our new office will have the LEED green building certification that guarantees not only great quality in the building, but it also ensures it will be eco-friendly and extremely resource-efficient. - Ivailo Nikolov, SiteGround
5. Sit/Stand Desks And IoT
To promote employee wellness and collaboration, every office should be using Live OS, an IoT system that connects sit/stand desks. It allows users to control the desk height and set activity goals -- somewhat like a fit-bit for your desk. After recently completing this project with Herman Miller, we have future-proofed our office with Live OS and believe sit/stand desks with IoT is the future! - Kurt Dykema, Twisthink
6. Robust Private Office Network
Planning for the future of any office should include the creation of a robust, fiber-based, private office network. Even if you do not need the bandwidth today, make sure you can easily get it and have infrastructure already in place to support the added capacity. One thing that will continue to increase is the amount of data we move around the internet and onto our local systems. - Chris Kirby, Voices.com
7. Dependable Wi-Fi
Dependable Wi-Fi is key to keeping employees in the zone. When we moved offices, we invested in high-end Ruckus Wi-Fi appliances to handle hundreds of Wi-Fi connections. It allows our IT team to understand network load and manage accordingly so we can solve any future problems that might prevent the team from being productive. - Christian Johan Smith, TrackR
Forbes Technology Council is an invitation-only community for world-class CIOs, CTOs and technology executives. Do I qualify?
8. Internet-Of-Things Technologies
Devices like smart thermostats extend the lifespan of expensive HVAC equipment by optimizing system use, and the cost savings of smart energy management can be reinvested elsewhere. Plus, as further knowledge and insight are gained by smart device providers about how office spaces best use IoT devices, the technology will continue to evolve to make office environments more comfortable and productive. - James McPhail, Zen Ecosystems
9. Multi-Factor Security
Every modern-day office needs to be armed with multi-factor security. A badge and password are no longer strong enough tools to keep companies protected, both physically and digitally. For the highest level of risk mitigation, offices should be outfitted with multi-factor access, deployable with facial recognition, iris scans and keystroke dynamics. - Tammy Cohen, InfoMart
10. Cybersecurity
No matter what changes in the technological playing field, there will always be a need for robust, effective cybersecurity. Just about every company out there stores so much value online that few things make more sense than investing in strong security and keeping it updated. - Ben Lee, Neon Roots
11. Electronic Whiteboards
Every office space should be investing in electronic whiteboards since they have the capability to store and print everything that is written on them. This will save time with note-taking and printing, thus increasing productivity. During meetings, all notes that are taken can be saved without having to rewrite them from the whiteboard, creating a better note-taking experience. - David Lefever, The Mako Group
12. A Great Pair of Headphones
Many workspaces are too loud and chaotic to concentrate on work. To isolate yourself from the deafening silence or distractions enabled by poorly designed workspaces, you should have a great pair of headphones at your desk. This will help you focus and zone in on your work tasks. - Jeremy Williams, Vyudu
Source: Forbes.com
Image: StockSnap