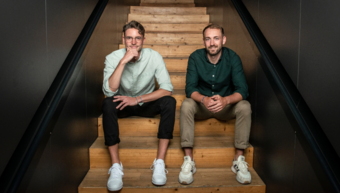 "Not every company operates in a market with such potential for growth, and not every company can realistically create a product that will change an industry," says Lukáš Balík, co-founder and CEO of Spaceflow.
Such high ambitions are increasingly supported by numbers. Spaceflow has an annual ARR – regularly recurring revenues, one of the important parameters for the valuation of technology companies – in the range of tens of millions of crowns. It has grown to nearly sixty employees. And this year, in particular, it completed an investment round, in which it sold a stake to the Swedish group Hydda for 200 million crowns.
"Four years ago we managed about ten buildings in the Czech Republic and we had one swallow house in London, today we have over three hundred of them under contract. And of course we want more every year. We have very ambitious and relatively aggressive plans for the next period," says Balík, who is in his thirties.
Because Spaceflow is a participant in races in the area called proptech - a new field was created by combining the English terms property and technologies. "We create an environment for people in the building. We are building an application that will help people to use the building's functionality more easily, to be connected with the community, with the owner," explains CEO Spaceflow.
Lukáš Balík, co-founder and CEO of Spaceflow
"All supporting technologies have to interact with the tenant layer – we build that. Every day someone opens our app and makes their life easier. He books a common room, reads the bulletin board, signs up for an event or perhaps pays for cleaning."
For those who still find it a bit like science fiction in the Czech Republic, it will be easier to understand why the company founded by the couple Lukáš Balík and Jan Jílek does not have business ties to their native country. "It is important for every founder to have as many projects as possible in the domestic market, but we knew from the beginning that we wanted to build a product that has a global vision. Other areas are uploading our technology more, we wanted to succeed outside, to co-define the market," explains Balík.
Translated into numbers: Benelux makes up 27 percent, Scandinavia fourteen percent, German-speaking countries almost half of the turnover - twelve percent of the business remains for the rest, including the Czech Republic. But it's still just the beginning. By the end of next year, they intend to jump from three hundred buildings to 1,500. At least.
"The road is long, the digitization of the entire field is taking time, but... The number actually still seems small to me," smiles Balík. "Because there are so many buildings in the world and we have our claws in large portfolios, only one of our clients has four thousand buildings alone. At the same time, we feel that the dynamics are much greater than before covid. My vision is that any commercial or residential building will use a digital layer for tenants," he adds.
On a global scale, for example, the VTS group is among the largest, but the market is still open and is just being formed. Leaders are born and Spaceflow wants to be one of them.
Lukáš Balík and Jan Jílek, the second co-founder of Spaceflow
That is also why Spaceflow has long been operating primarily in English, the development section is located in Karlín, the sales section is in London. Trends from Western Europe are recording them. Monitoring energy consumption through the application, communicating with tenants, having access to the apartment on a mobile phone... All this is already happening there.
"It's tremendously refreshing to work with innovative, forward-thinking markets," admits Balík. "In the Czech Republic, there is a well-known trend of owning your own home, in the countries of our clients, renting works a lot. Large funds rent out entire projects with lots of shared services that entice tenants to spend as much time there as possible and buy more services than just the rent itself. This is a huge trend that Spaceflow has been standing on since the beginning."
In addition, modern development in Scandinavia, Benelux or German-speaking countries tastefully mixes office and residential spaces. It adds shared conference areas or cafes. "And that's one of the big changes we're reflecting technologically. Even for office buildings, it is not a B2B market, but a B2C one. The owner must know the person in the building and know what they have to offer. That has changed terribly during covid," explains Balík.
"Before, the market was working fantastically, the buildings were filled, the funds were making huge money. Today, they have to try to attract people to the buildings. Not just to fulfill a basic need, but to create a desire to be in that building," he adds.
According to him, the solution is synergies. As Balík says, in the huge mass called proptech, which raised a record 13.1 billion dollars globally in the first half of 2022, no one can do everything alone. That's why Hydda entered them property-wise. The Swedish group brings together both technology companies (including those from proptech) and building owners. After all, one of Hydda Group's investors is Vasakronan, Sweden's largest lessor of commercial buildings.
"Proptech is hot and thousands of companies are targeting different verticals. On how we design buildings, how transactions take place, how leasing is handled - all the way to operations," explains Balík. "And it all has to work together at the end of the day."
The high scalability encourages them to make bold plans, the 200 million crowns obtained are primarily aimed at the sales team and the product: "So that we can continue to co-create the market in a certain way and be at the forefront of innovation."
Which is also due to the fact that they simply started early. Today, when Balík goes back to the beginnings of Spaceflow, the term first mover advantage is apt.
"I was lucky to have experienced people in the field of real estate who knew that digitization and environmental change were inevitable, that a purely offline world was passé. Thanks to them and the timing, we were able to put ourselves on the solution map very early," says Balík. "We went around the world to major conferences, it was relatively easy to get to the stage, to the panels, but today you have to pay tens of thousands of euros in some cases to be able to place your logo somewhere."
They pass the partial exams excellently, but in the future they will face an even bigger test. IPO, i.e. entry to the stock exchange. Once the planned expansion is successful, Hydda plans to subsequently become a publicly traded company in its parent Sweden. "It should happen within two or three years. It will bring a lot of changes, today I am probably not able to read many of them myself," says Balík.
In short, his company is running a race for a lot of opportunities and a lot of money, at high speed, of course. Today, at Spaceflow, they just remember how they started with an interface that briefly resembled a digitized bulletin board.
"It has moved much further, the expectations are completely different," he admits. "The owners want to use technology to solve the help desk, access to the building, document management, house rules, reservation system, payments... This is of course a challenge for the development team. In order to always be at the forefront of innovation, we need to invest in it."
However, this requires enough capable employees. "My role is to make sure we have the best people, the greatest talent on the team. That we have an environment and culture capable of attracting them. That we have a vision, a clear strategy for the team and the clients," he says.
"I believe this has been true since the beginning, but you have to be authentic as founders, spend a lot of time with people, listen to their feedback. So that they feel from above that this is not a management by eye with a calculation to make money, but something that really drives our passion forward," he adds.